Specs
Power (kW / HP)
200 / 272
Porsche 993 1995
The History
In 1994 business was going a lot better for Porsche when the new 911 (internally known as 993) went on sale. The new car was the most sweepingly changed 911 ever. Gone were the nearly upright headlights that had accompanied the 911 for over thirty years. They were replaced with 959-like items in favor of better aerodynamics. Together with the new bumper and front wings, they gave the 993 a fresh look, without losing the identity of the 911.
The 993 wore newly designed 16-inch wheels and wider rear fenders. Beneath the front bumper were 'air-relief' vents, to help air escape from the wheel wells.
Chassis revisions were just as extensive. The 3.6-liter engine was modified to give 270 bhp. A new Porsche-designed six-speed gearbox was used, the rear suspension had been redesigned, and more powerful brakes had been added. The single exhaust pipe was replaced by exhausts both left and right like the Turbos have.
The 993 was equipped with rear-wheel drive, now called Carrera instead of Carrera 2. Later the Carrera 4 became available with a further simplified four-wheel drive system. The new system now added only 50 kg's extra weight to the car compared to the Carrera. The Carrera 4 can be recognized by the indicators that are white on the front and red on the back (the Carrera's are orange).
The Carrera and Targa models were powered by a new 3.6-litre engine, which initially developed 272 hp and 285 hp as of MY 1996.
The 993 also featured a new interior. Luggage space was increased by 20%. There were new seats, a new steering wheel, and some other changes making the 911 interior more ergonomic. When the 993 was released it was only available as a coupé. The cabriolet followed a couple of months later. The Targa was dropped because sales had been decreasing ever since the cabriolet had been introduced in 1981. In 1995 a new-style Targa would, however, be introduced again. Not only did 1995 bring a new Targa. In 1996 the new RS, RS Clubsport, Carrera 4S and the new Turbo were introduced.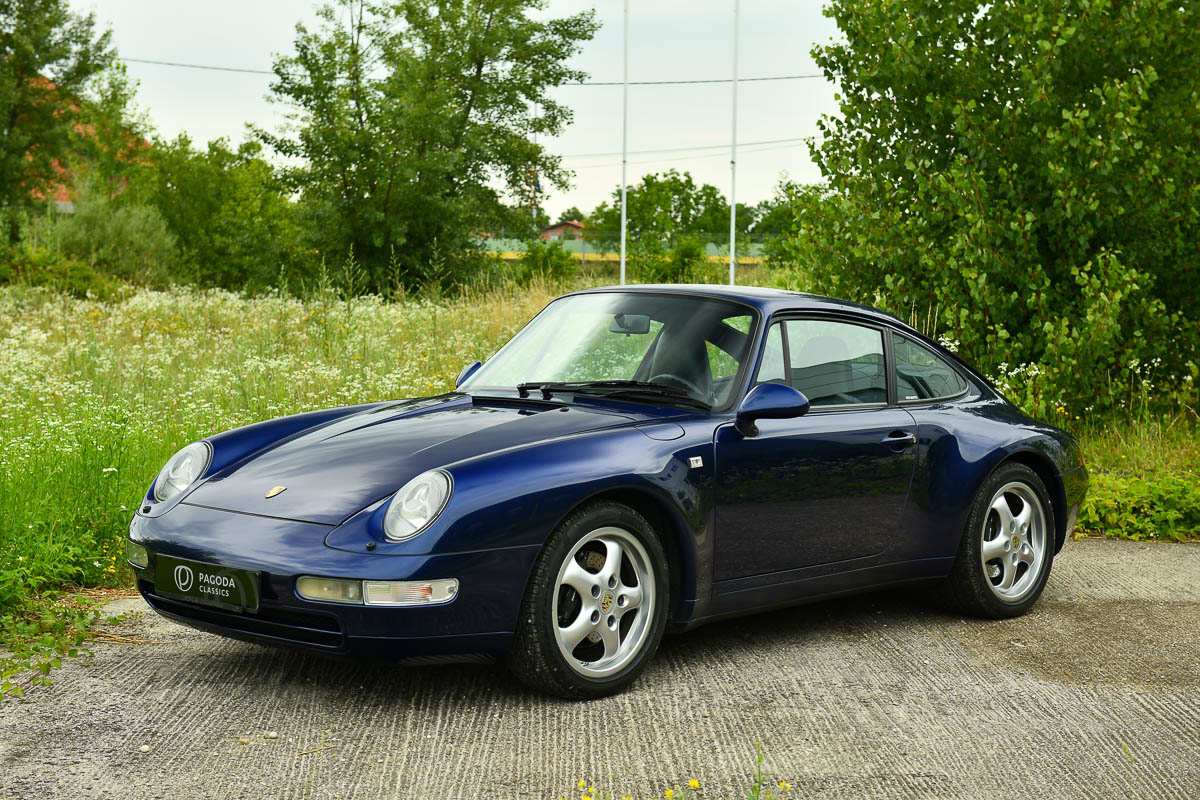 About this car
Imported from Japan, this blue color over black interior 1995 Porsche 993 with automatic gearbox has only one owner from new and no accident history.
This beautiful car has been well looked after, recently completely serviced and is ready for a new owner to enjoy a summer ride.
It comes with new tires and complete service records.
Interested in Porsche 993 1995?
Send us an enquiry.
Need our services?
Send us an enquiry.