Specs
Model
911-964 Carrera 2 RS Look
Power (kW / HP)
184 / 250
Porsche 911-964 Carrera 2 RS Look 1990
History of the 964 Carrera
Type 964 is Porsche's internal code name for the Porsche 911 models manufactured and sold between 1989 and 1994, which were badged simply as "Carrera 2" and "Carrera 4". "964" is used by automotive publications and enthusiasts to distinguish them from other generations of the Carrera.
Porsche 911 Carrera 4 type 964 contained 85 percent new parts, but largely retained the classic shape of its predecessor, the Carrera 3.2.
Despite many similarities in the design, the 964 had much better aerodynamics. This was helped in particular by the new round front and rear sections as well as an automatically extending rear spoiler. Electric rear spoiler raised at speeds above 50 mph (80 km/h) and lowered down flush with the rear engine lid at lower speeds.
The 911 Carrera 4 was the first 911 to feature an all-wheel-drive system. Its electronically controlled permanent all-wheel drive normally transmitted 31 percent of the drive torque to the front axle and 69 percent to the rear axle. The distribution could be varied according to the relevant driving situation. There was a traction switch on the center console of the C4. Its 3.6-liter engine produced 250 hp.
As of the model year 1990, an identical rear-wheel-drive version (first model with Tiptronic) was available in the form of the 911 Carrera 2 and another Turbo version as of the model year 1991.
Both variants were available as a Coupé, Targa or Cabriolet. The 964 Carrera was the last generation sold with the traditional removable Targa roof until 2011 991 (993, 996, and 997 versions used a complex glass-roof "greenhouse" system instead).
A new naturally aspirated engine called the M64 was used for 964 models, with a flat-6 displacement of 3.6 liters. The suspension was redesigned using coil springs instead of torsion bars, the first major engineering changes since the original 911. The front suspension used MacPherson struts, a system that has continued for all subsequent versions, but the rear suspension retained semi-trailing arms.
Power steering and ABS brakes were added to the 911 for the first time; both were standard. T A revised interior featured standard dual airbags beginning in late 1989 for all North American production 1990 MY cars. A new automatic climate control system provided improved heating and cooling.
Revised instrumentation housed a large set of warning lights that were tied into the car's central warning system, alerting the driver to a possible problem or malfunction.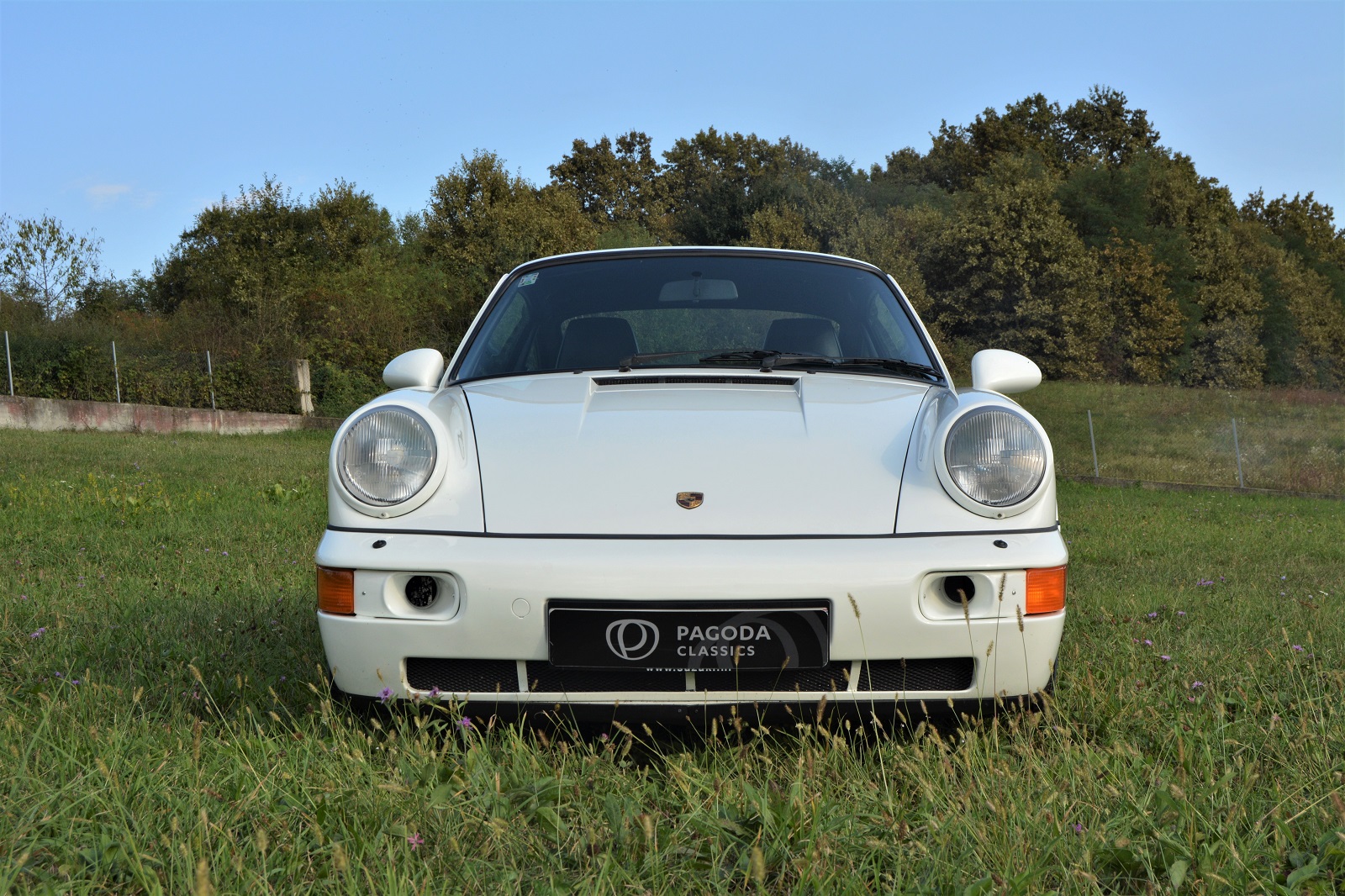 About this Porsche 964
This 1990 Porsche 911 964 Carrera 2 finished in white over black leather interior is the first owner car, originally delivered to Switzerland.
Additionally equipped with OEM RS body parts.
It has covered only 108369 km from new and is accident-free.
The car was well maintained and regularly serviced and comes with service records.
The iconic 911 shape powered with a 3.6 L engine, and excellent cosmetic and mechanical condition make this Porsche 911 964 Carrera 2 a perfect choice for everyday-ride or a great addition to a collection.
Interested in Porsche 911-964 Carrera 2 RS Look 1990?
Send us an enquiry.
Need our services?
Send us an enquiry.