Specs
Exterior color
Red and White
Volkswagen T1 Samba Deluxe 1962
The History
The first generation of the Volkswagen T1 with the split windshield, informally called the Microbus, Splitscreen, or Splittie among modern fans, was produced from 8 March 1950 through the end of the 1967 model year.
The Volkswagen Samba, in the United States also known as Sunroof Deluxe, was the most luxurious version of the T1. Volkswagen started producing Sambas in 1951.
In the USA Volkswagen vans were informally classified according to the number of windows they had. This particular model had 23 and later 21 windows including eight panoramic windows in the roof (the 23 window version had additional curved windows in the rear corners). To distinguish it from the normal Volkswagen van the name Samba was coined.
Sambas were painted standard in two colors. Usually, the upper part was colored white. The two colored sections were separated by a decorative strip. Further the bus had a so-called "hat": at the front of the van the roof was just a little longer than the car itself to block the sun for the driver. The windows had chrome tables and the van had a more comprehensive dashboard than the normal T1.
The DeLuxe model featured eight rear side windows and two rear corner windows, making it the 15-window (not available in Europe). Meanwhile, the sunroof DeLuxe with its additional eight small skylight windows is, accordingly, the 23-window. The 23- and later 21-window variants each carry the nickname 'Samba' and are the most desirable campers to collectors.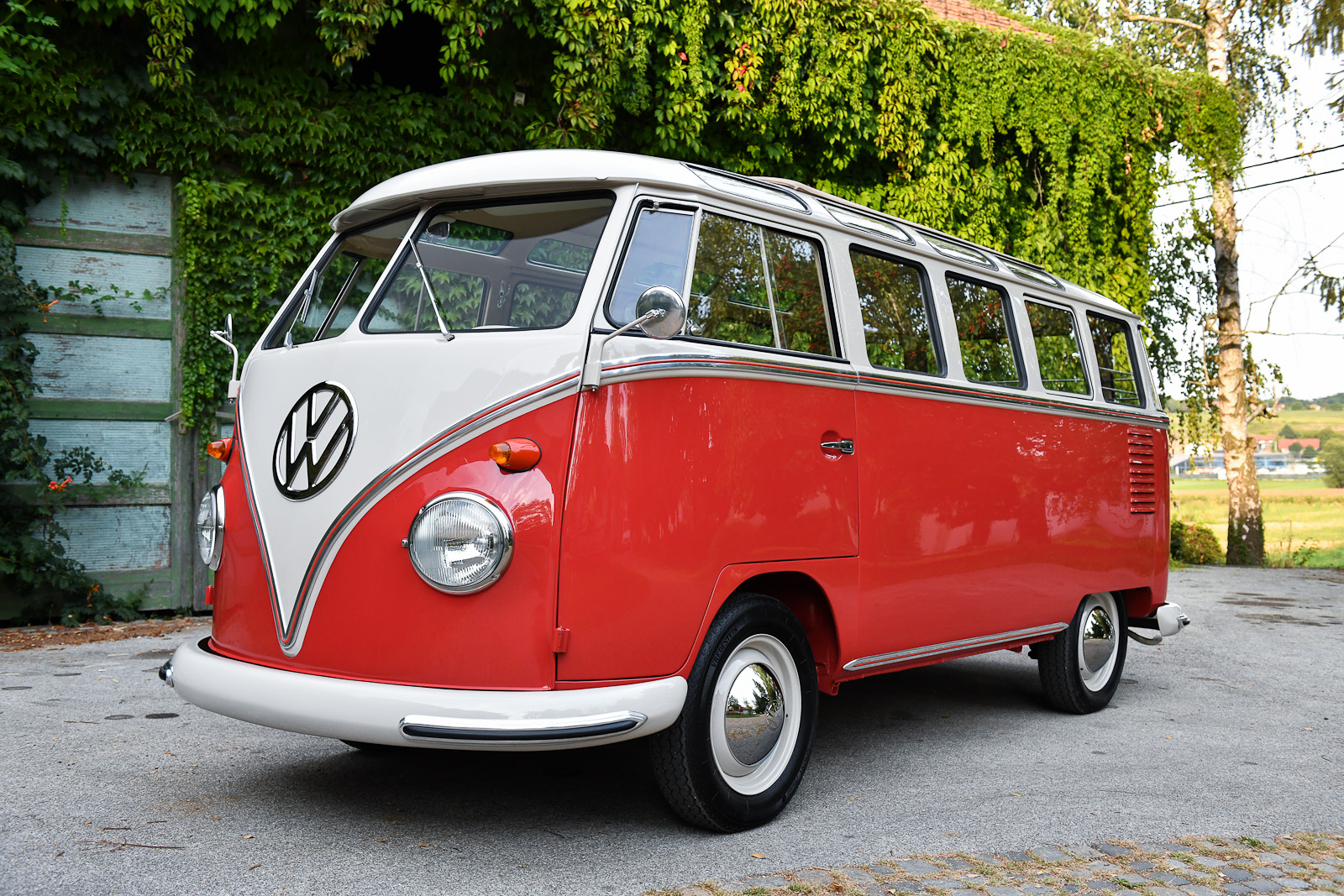 About this car
The legendary two-colored VW van was lying long forgotten in the middle of the woods waiting to be spotted and saved by some classic car enthusiast.
After complete and extensive restoration carried out by Pagoda Classics specialists this iconic car from the past century has been brought back to life.
Now shining in full splendor, Samba Deluxe deserves its place in the world's finest classic car collections.
"Barn find" in the middle of the woods
Interested in Volkswagen T1 Samba Deluxe 1962?
Send us an enquiry.
Need our services?
Send us an enquiry.