Specs
Power (kW / HP)
138 / 188
Mercedes-Benz 300 SL 1986
The History
The R107 and C107 took the chassis components of the midsize Mercedes-Benz W114model and mated them initially to the M116 and M117 V8 engines used in the W108, W109 and W111 series.
The SL variant was a 2-seat convertible/roadster with standard soft top and optional hardtop and optional folding seats for the rear bench. The SLC (C107) derivative was a 2-door hardtop coupe with normal rear seats. The SLC is commonly referred to as an 'SL coupe', and this was the first time that Mercedes-Benz had based a coupe on an SL roadster platform rather than on a saloon, replacing the former saloon-based 280/300 SE coupé in Mercedes lineup. The SLC was replaced earlier than the SL, with the model run ending in 1981, with a much larger model, the 380 SEC and 500SEC based on the new S class.
European buyers were offered more performance from an earlier date, with a 5.0-litre model (240bhp) making its debut in 1981. The 220bhp 380SL replaced the 350SL and the range continued into the mid-Eighties, though by now it was looking – and feeling – very dated despite the power upgrades. A minor facelift in autumn 1986 brought revised engines and a line-up consisting of 300SL (188bhp), 420SL (218bhp), 500 SL (245bhp) and special-order 560 SL (300bhp), though the latter only produced around 240bhp in US-market cars, which were also hampered by the now-compulsory third high-level brake light, awkwardly positioned on the boot lid and spoiling the otherwise sleek profile. Nearly 237,400 Mercedes W107-s were produced over the 18-year production period, two-thirds of which went to the USA, but this SL – no longer particularly sporty and certainly no longer light – was long overdue for obsolescence by the time it was finally replaced in 1990.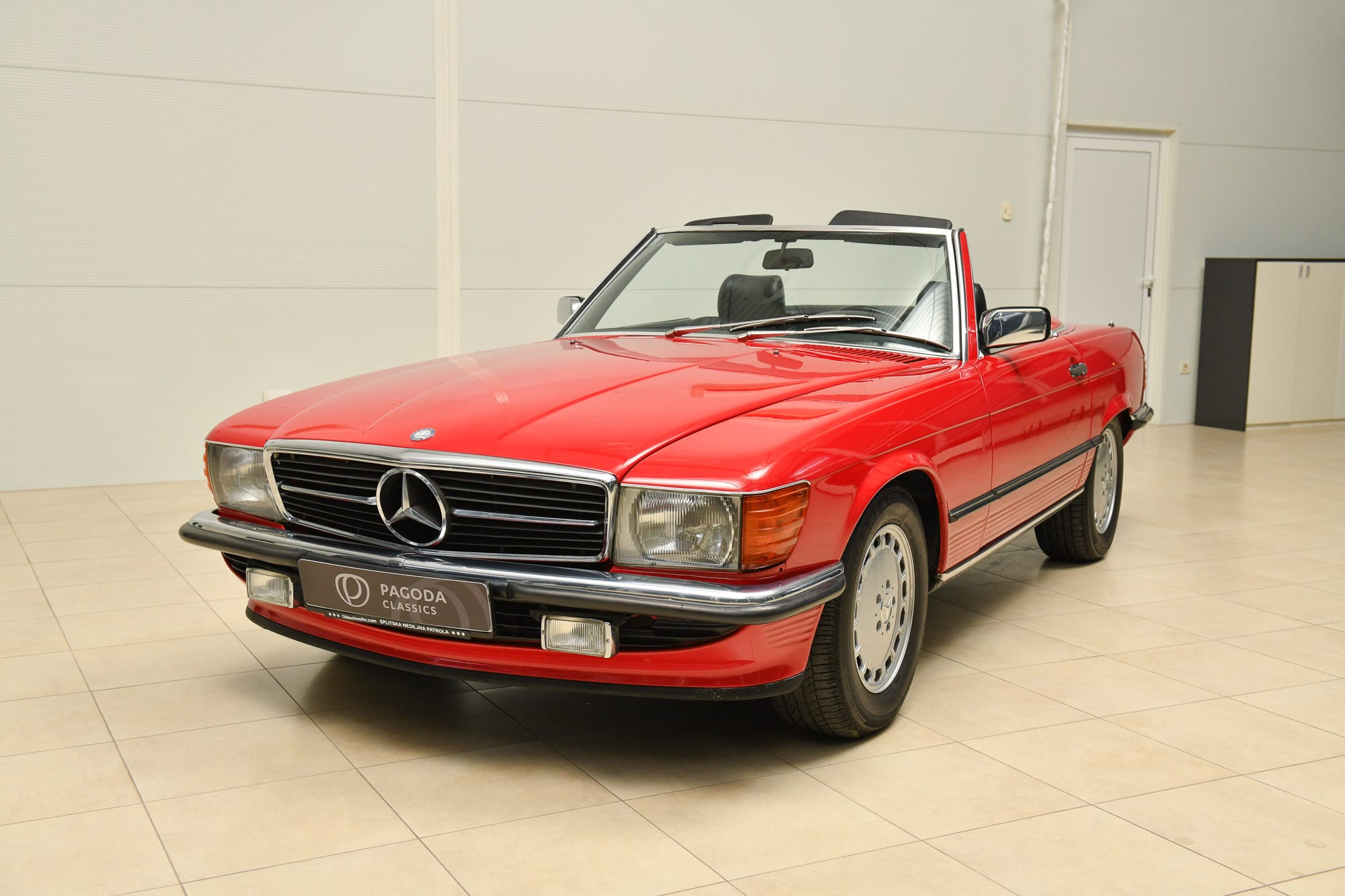 Details about this car
The 300 SL base model was available as standard in a 5-speed manual although very few were sold. The SOHC 6 cylinder M103 is typically considered to have handling advantages with its lighter weight engine.
Original condition and one-owner car.
Interested in Mercedes-Benz 300 SL 1986?
Send us an enquiry.
Need our services?
Send us an enquiry.