Specs
Power (kW / HP)
138 / 188
Mercedes-Benz 300 SL 1985
The History
Four years after the presentation of the energy concept the SL models were again thoroughly modernized and presented at the International Motor Show in Frankfurt in September 1985. There were minor external changes, improved front wheel suspension and above all, a new range of engines.
A new 3-liter six-cylinder engine, which had been introduced in the medium-sized W 124 series nine months before, replaced the proven 2.8-liter DOHC-engine, as in the S-Class. A 4.2-liter V8-engine was also new and replaced the 3.8 not only in the SL but also in the S-Class saloons and in the SEC coupés. The 5-liter engine was also modified; it now had electronic ignition and Bosch KE-Jetronic with electronic-mechanical injection control and developed an output of 245 hp. The most spectacular addition to the engine range was a 5.6-liter V8 with 272 hp, which was obtained by giving the 5-liter a longer stroke. For the domestic market, the 5.6 was not used in the SL, however, but only in the S-Class saloons and coupés. The 560 SL was only exported to the USA, Australia, and Japan, but as a detuned version with a catalytic converter and only 230 hp because of the emissions regulations in these countries.
The production of the 300 SL – 560 SL ended in August 1989, more than 18 years after the first 350 SL was built. The 107 SL series thus set a record for Mercedes-Benz that is unlikely to be broken: no other Mercedes-Benz model series was produced for such a long period. A total of 237,287 of these cars came out of the Sindelfingen plant, a figure that demonstrates just how popular the 107 series was. Its successor was the 129 SL series with three models, which was presented to the public in March 1989.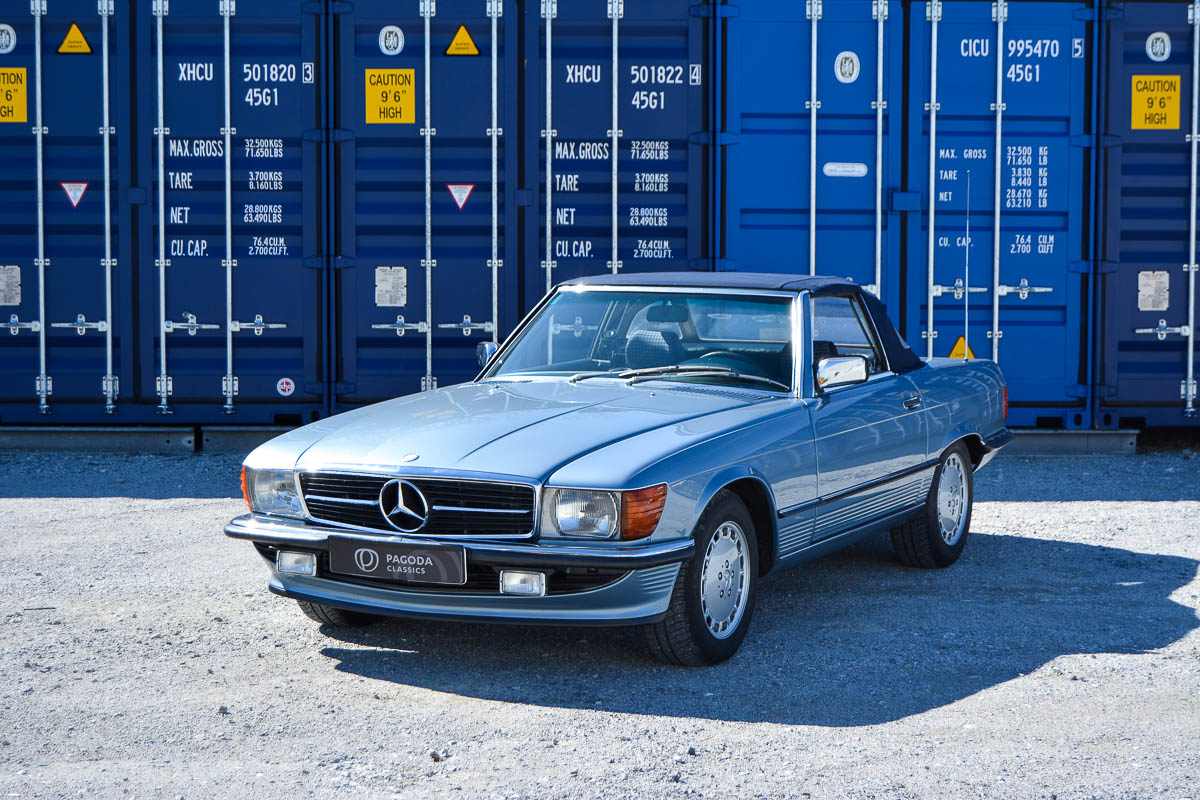 Details about this car
This classic Mercedes-Benz Roadster R107 has a wonderful color combination of blue and blue leatherette with a blue soft-roof and original kilometers. It has air condition, and hard top included.
A rare beautiful classic with the famous 300 engine in conjunction with an automatic transmission.
Only-one-owner car.
Interested in Mercedes-Benz 300 SL 1985?
Send us an enquiry.
Need our services?
Send us an enquiry.