Specs
Engine type
M121 BII 1.9 L
Mercedes-Benz 190 SL 1962
The History
As in the case of the 300 SL Gullwing, a successful businessman played the key role in the development of the 190 SL. Max Hoffman is thought of as the spiritual godfather of both Mercedes Roadsters.
Hoffman achieved the impressive feat of convincing the Board of Management of Daimler-Benz that they should add a small, cheaper sports car to the range for their American clientele alongside the 300 SL. The sales opportunities for such a Roadster over the other side of the Atlantic, according to Hoffman, were excellent. The 190 SL was developed with breathtaking speed: work began in September 1953 and it was then launched in February 1954 at the New York Auto Show, together with the 300 SL.
It took another year before the car was ready for series production. It made its European debut at the Geneva Auto Show in March 1955, with production starting two months later. The stylistic similarity between the 190 SL and the 300 SL is completely intentional. But the similarities end, once past that exquisite metal exterior. Here there is none of that innovative space frame, nor the direct gasoline injection system of the 300 SL. The technical basis here comes off the standard production line.
The so-called frame/floor system is taken, in shortened form, from the good old 180-series Ponton Sedan. The redesigned four-cylinder in-line engine of the 190 SL is derived on a technical level from the six-cylinder units found in the 220 and 300 models. With just 105 hp, the engine delivers just about half the power of the six-cylinder in-line unit of the 300 SL.
No attempts to make the 190 SL sportier, lighter or more powerful could diminish its importance. It preserves the charm of this era of reconstruction like few other automobiles of its era, because right until production was discontinued in 1963, it was spared any significant modifications.
What could be finer than to drive a car that represents the dreams of a whole generation? One that can safely be described as the true role model for all generations of SL and SLK models to come. In this respect even its big brother which goes by the name of 300 SL must capitulate for once – even though it was the first Mercedes-Benz permitted to bear the letters SL.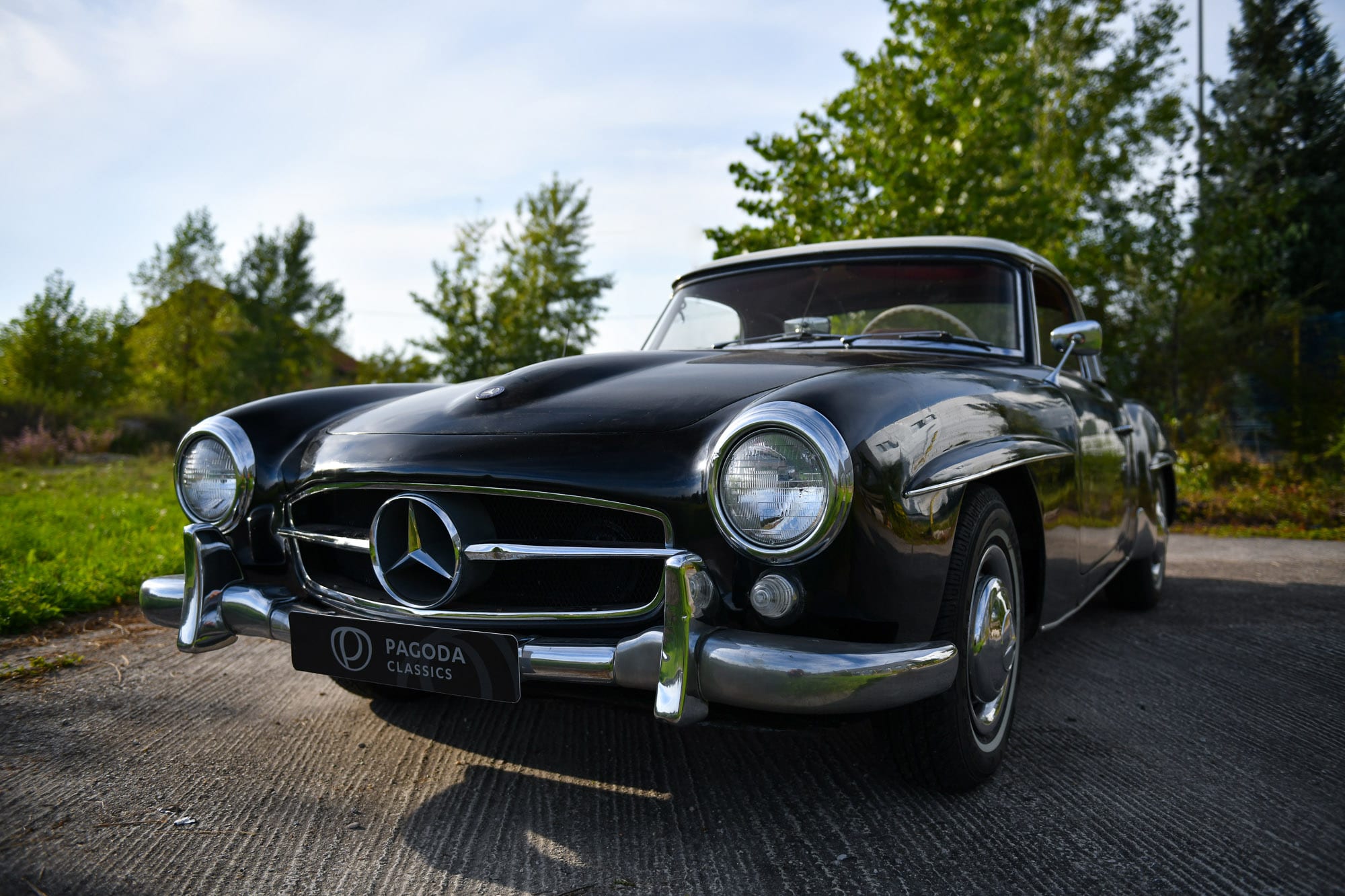 Interested in Mercedes-Benz 190 SL 1962?
Send us an enquiry.
Need our services?
Send us an enquiry.