Specs
Transmission
Five-Speed Manual
Model
124 Sport Coupe - Series II
Engine type
1600 / 2 carburettors
Fiat 124 Sport Coupe – Series II 1971
The History
Aimed squarely at those drivers who wanted something sportier than its 124 family sedan and needed the practicality of room for four passengers, the Fiat 124 Sport Coupe provided an unbeatable combination of technological refinement at an affordable price. The Sport Coupe appeared in the spring of 1967, following the debut of the 124 Spider by several months. Both were based on the 124 sedan, which had won European Car of the Year honors on its introduction in 1964, but upped the ante with their increased power, improved handling and greater degree of comfort.
Fiat hired Pininfarina to design the Spider, but went in-house for the Sport Coupe's lines, handing the job to Mario Boano. Starting with the sedan's 95.3-inch wheelbase but a clean sheet otherwise, Boano created a simple, sophisticated shape dominated by a tall greenhouse that provided excellent visibility and reasonable rear headroom for two adults. From its pretty twin headlamps and uncluttered grille, the body's lines swept cleanly to a squared-off tail decorated with a pair of unpretentious horizontal taillamps.
Fiat initially gave the Sport Coupe the same four-speed gearbox used in the sedan, but the five-speed from the Spider had become standard equipment by 1969. The 124 sedan's chassis was already regarded as one of the most modern and refined on the market, with wishbone independent front suspension, a live rear axle located by parallel trailing arms and a Panhard rod, and a power-assisted disc brake at each corner. Turin's engineers tweaked the suspension for Sport Coupe duty by increasing the spring rates all around, fitting a thicker anti-roll bar at the front, and adopting 5-inch rims.
The first version of the Coupe, called the AC, was supplanted in 1971 by the BC, marked by its quad headlamps and restyled front fenders. Fiat did away with the earlier car's torque tube and rear anti-roll bar, but compensated by making a longer-stroke, 1,608cc version.
Production of the Sport Coupe ended in 1975, with nearly 280,000 built.
Today, any Sport Coupe is a rare sight.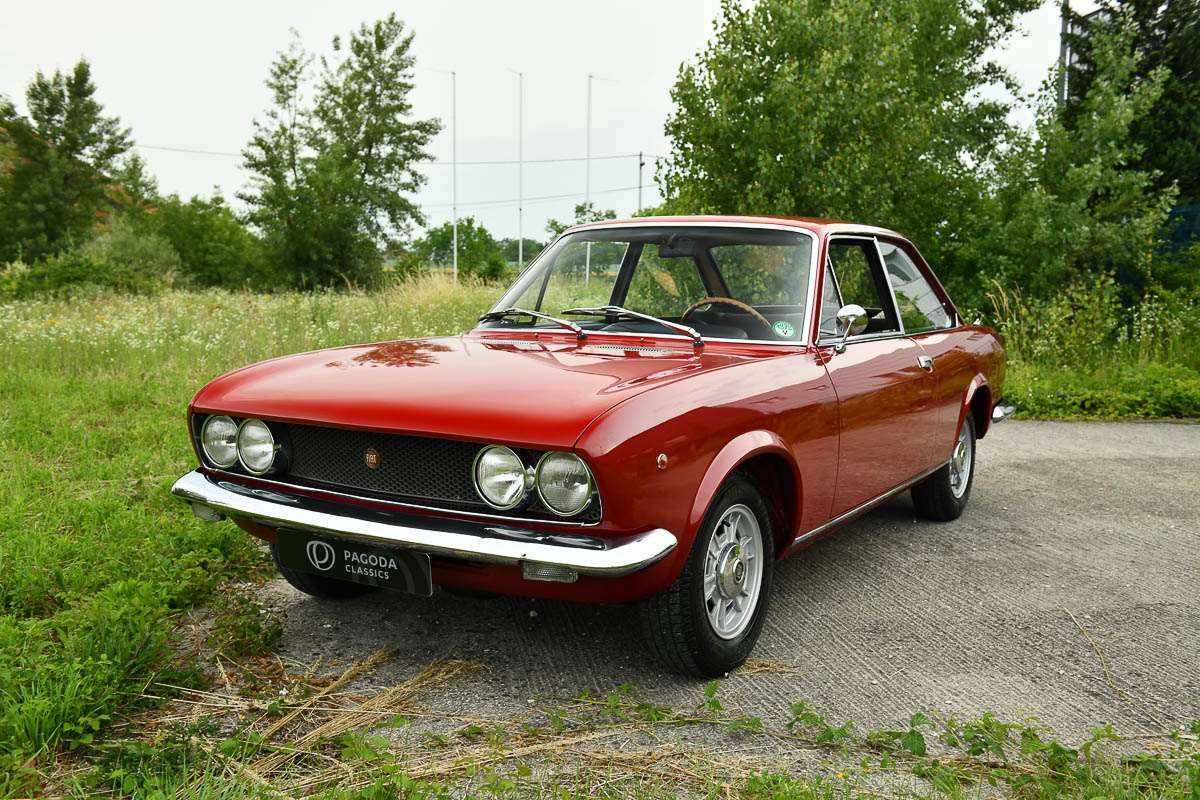 About this car
In 1971 the Fiat 124 Sport Coupe – BC1 bought in Torino after one year changed the owner and went to Ravena.
It was driven only for 10 years and from 1982 until 2002 safely placed in a garage in Ravena. In 2002 the 124 Sport Coupe was sold to Croatia.
From 2005 regularly registered until today. Never driven in winter, no salty roads and got wet only 2 times.
The paint was redone in original color in 2005. The seats are original. The motor and 5-speed gearbox are original, working perfectly.
New rear lights are installed in May 2018.
With the car you get the following spare parts:
1 front window
3 back windows
front and back bumpers
various battens
Interested in Fiat 124 Sport Coupe – Series II 1971?
Send us an enquiry.
Need our services?
Send us an enquiry.